Titanium Spork
Highlights

BEST USE: Backpacking & Camping

DISHWASHER SAFE? No

WEIGHT: 0.4 oz | 12g

MATERIAL(S): Titanium
Shipping & Returns

We want you to have the best possible experience when using our website which is why we offer free shipping on every order, large or small

We aim to dispatch your order on the same day and deliver it the following working day For more details, check out our Shipping Policy.

We also offer a free-of-charge return service meaning you can buy in complete confidence from us. For more details, please check out our Refund Policy.
Find Locally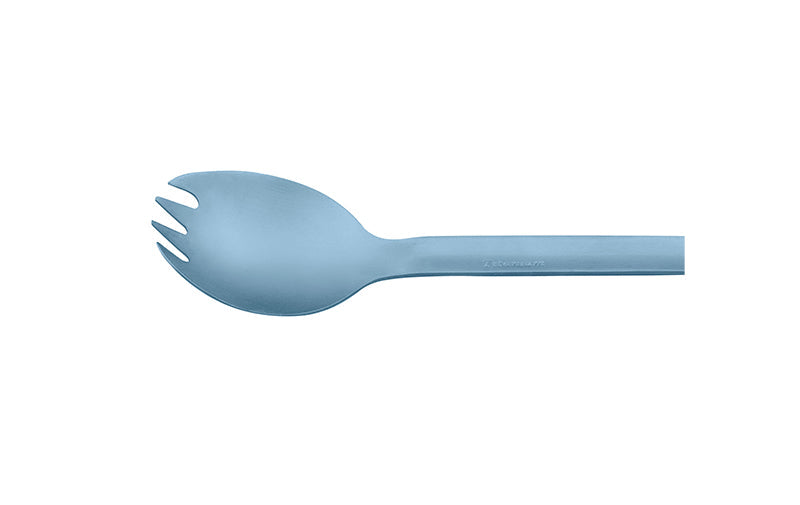 Description
The Titanium Spork is lightweight, compact and exceptionally strong "and won't bend or break if awkwardly placed in the bottom of your pack.

Titanium remains a premium material for camp cutlery. It provides exceptional durability, it's food safe, has a very high resistance to corrosion and will last longer than an alloy equivalent.

It also includes a mini carabiner.
Features
Ultralight and durable
Conforms to FDA food safety standards
Made from 100% titanium
Smooth anodised finish
Comes with a mini carabiner
Frequently Asked questions
Be sterilized with bleach?

Yes. Bleach will not damage the anodized surface of the Alpha cutlery. Please use bleach in moderation in the backcountry – it kills 'good' bacteria as well as harmful bacteria.

Note – Sea to Summit also sells a range of titanium cutlery. Please see the Titanium Cutlery pages.
Be used with non-stick frying pan / pot finishes?

No. The hard edges of the cutlery will damage either a PTFE (Teflon) or a ceramic coating. Nylon cooking utensils are preferable for this application.
Be washed in a dishwasher?

No. The caustic cleanser used in dishwashers will damage the anodized finish of Alpha cutlery.